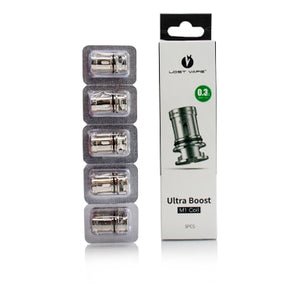 Q-Ultra Boost Coils by LOST VAPE (5Pack)
Lost Vape Ultra Boost Replacement Coils. These coils are compatible to the Lost Vape Orion Q-Ultra Pod System. These replacement coils can be installed into the bottom of the Q-Ultra Pod with a simple plug 'n' feature.
Q-ULTRA COILS & PODS ARE ONLY COMPATIBLE WITH THE ORION Q- ULTRA POD SYSTEM.
The 0.3ohm M1 coils hold a 0.3ohm atomizer resistance and a wattage output recommendation between 30-40W.