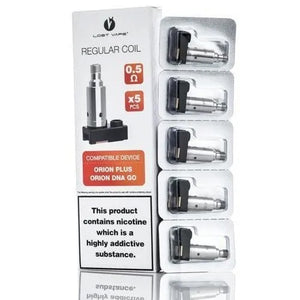 Orion Plus Coils/Pods (5 Pack) by LOST VAPE
Orion Plus Coils come in a 5-pack, feature organic cotton wicking, and sport a combination pop-in and threaded installation design to balance ease of use and leak prevention. 
 - The 0.25 ohm Orion Mesh coils feature a honeycombed mesh design, enabling the coil to heat instantly and evenly, and are optimized for use with standard eliquid. 
- The 0.5 ohm Orion Regular coils feature a single standard coil construction that is optimized for vaping with nicotine salts, but can also be used with standard eliquid.