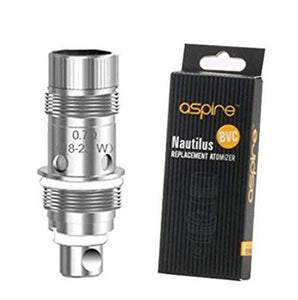 Nautilus Coil (5 Pack) by ASPIRE (5 Pack)
Three resistance are for your choice, 0.4ohm, 0.7ohm and 1.8ohm. 
Compatible with following products:
A. Nautilus 2
B. Nautilus 2 Stainless version
E. Nautilus
also available
.7ohm, custom designed for Aspire Triton Mini & Nautilus ; Nautilus Mini ;Nautilus 2 Tank & Nautilus 2 Stainless Tank Atomizer.
100% Japanese organic cotton as wicking material, which will deliver pure taste.