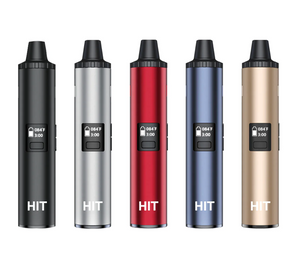 HIT! Dry Herb Pen by YOCAN
YOCAN Hit Vaporizer Kit is a portable combustion-free Drying vaporizer. Designed for use with dry material. Yocan Hit Vaporizer is outfitted with advanced vaping technology and kept small and compact body, allow you to enjoy the ideal balance of utility and portability. The Yocan Hit Vaporizer comes with a battery capacity of 1400mAh, provides sufficient power for the equipment, which ensures that you have the latest and fastest in data and power transfer with its USB-C charging capabilities. The Yocan Hit Vaporizer has a large and clear OLED screen that keeps you updated on all of the necessary info like temperature and battery level. However, it has an intelligent vibration function as well, so you don't need to look at the screen to know when it has reached the selected temperature. This makes for a convenient means of consuming herbs whilst you're on-the-go.
Yocan Hit features two setting heat up times of 3 minutes and 5 minutes which may be switched by pressing the power and down button at the same time. Temperature settings range from 200-480F with a 30-second heat-up time and a slight vibration to alert the user when it has reached temp. The Yocan Hit is designed with a magnetic mouthpiece and a built-in stirring tool which allows for packing and cleaning your device to be a much easier task. So all you need to do is twist the mouthpiece to mix your herb. It's outfitted with a convection oven that's designed and engineered to vaporize your select Drying strains. Yocan Hit uses the heat of the walls of the oven instead of using hot air to permeate the herbs inside the chamber. This allows the herbs to be vaporized without reaching the point of combustion, thus promoting clean and smooth vaporization of your herbs. The implemented super infused airflow allows for a maximum vaping intake which provides for a smoother and cleaner vaping experience.
Features:
* Lightweight and Discrete
* Magnetic mouthpiece and built-in stirrer
* Ceramic heating chamber for a smoother taste
* Smart vibration function
* Superfast heat-up times of 30 seconds
* Two modes of heat-up times: 3mins and 5mins
* Superbly diffused airflow
* 1400mAh Battery
* Type C Charging
* OLED Screen
* Safety power-off protection
* Built-in Stir Tool