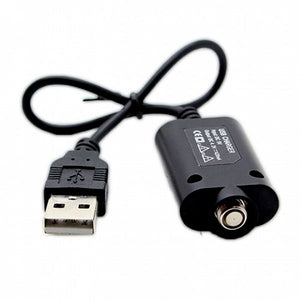 EVOD Battery 420 & 450mah Charger by KANGERTECH
This charger is customized for Kangertech EVOD batteries, but it can also work with other eGo batterries with 510 threading.
It takes 3-4 hours to charge an EVOD battery completely.
Batteries can be charged by it are, 650, 1000 & 1500 mah EVOD batteries. 
Brand:Kangertech
Unit:1pc
Color:Black
Shipping weight:32g
Input voltage:DC 5v
Output voltage:DC 4.2v
Output current:400mA
Package:Mini paper box
Shipping method: Please check here for details.
How to use?
* Screw the battery tightly into the charger
* Insert the charger into a computer or a universal AC- USB adapter
* When the battery is fully charged, the led on the USB charger will turn red into green.