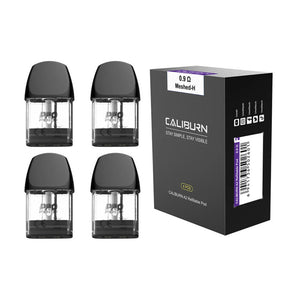 Caliburn A2 Replacement Pods by U-WELL
Uwell Caliburn A2 Replacement Pods, featuring a 2mL pod capacity, 0.9ohm meshed coil, and is equipped Pro FOCS technology.
The two Caliburn A2 Pods apply a new 0.9Ω Meshed Coil PRO FOCS system which maximizes the flavor production of your favorite E-Liquid. The refillable and replaceable pod is magnetically attached to the device and features a leakproof top filling system, making the refilling as easy as pie without pulling out the pod to refill while maintaining a hygienic filling process. 
Uwell Caliburn A2 Replacement Pods Features:
Uwell Caliburn A2 Pod Series
2mL Pod Capacity
Top Fill System
0.9ohm UN2 Meshed Coil Pod
Pro-FOCS Technology
Magnetic Pod Connection
Make sure to properly prime each coils and pods before use.