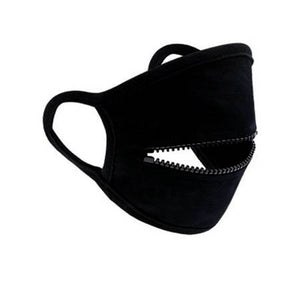 Mask with Zipper
Alway be in compliance with a zipper mask. Keep your mask on in public at all times while sipping on your favorite drink, or vape device.Tired of your words being muffled? no any more with a zipper mask.
1.Can be washed and reused, high quality

2. The zipper can be opened, and you can 
eat or drink without removing the mask

3. Special fabric design, breathable material, not stuffy

4. Fits the face of most men and women

5. Effectively absorb sweat and cool down quickly. Use wet water to wring it and use it directly, there will be a cold feeling.


Material: Ice Silk
Size: 20cm x 12cm
Color: Black/Black zipper
Contains: 1PC masks

☛ Product Name: Zipper Face Mask 
☛ Product Type: Handmade
☛ Quantity: Custom 
☛ Color: Black 
☛ Anti Dust: Yes
☛ Breathable & Washable: Yes
☛ Soft and Lightweight: Yes

♥ CLEANING INSTRUCTIONS
You can wash this double layer mask with cold water. If you want to remove the stains and spots from the mask, then use a light detergent with water.