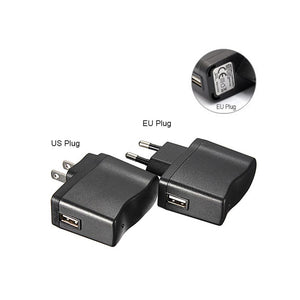 500mA USB Power Adapter/Charger (US PLUG)
The USB Power Adapter can only be used with USB cable or USB charger.
The LED on charger is red when charging,when the battery is fully charged,LED turns green.
This adapter not only can work with USB charger of e-ciga,but also chargers of some electronics,like mobile phone.
NOTE:
The power adapter does NOT include a USB charger or a USB cable. Please order USB chargers or USB cables separately.
Vapor Den carries 420mA eGo Fast USB Charger for your choice.
The adapter can work well directly with EVOD upgrade 650mah, 1000mah and 1600mah VV.
Unit: 1pc
Color: Black
input voltage: 100-240 V
output voltage: 5V
output current: 500mA
How to use?
Insert one end of the USB cable into battery
Insert the other end into the adapter
Plug the adapter into socket