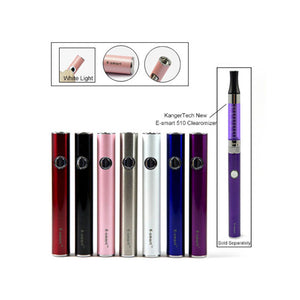 E-Smart Battery by KANGERTECH - SOLD OUT!
This is newest E-smart 510 manual Battery from KangerTech. Charger not Included.
The E-smart 510 manual battery has following features:
1. Battery cut-off. The button LED will flash 5 times to stops outputting voltage when the button is pressed for more than 15 seconds.
2. Safety fuction. The battery has a power saving/safety function which allows users to turn on and off the battery.It prevents accidental discharge of battery when not in use. Press the button 5 times to turn on/off the battery, the LED will flashes 3 times.
3. LED indicator. When the battery power is low, the button LED flashes 15 times when pressing to indicate the battery needs charging.
4. Constant Voltage, as the battery offers a constant voltage 3.7V, you can enjoy your vapor constantly.
Users should use only the dedicated kangertech USB charger for the E-smart battery, please fully charge battery before using, these will help prolong the lifespan of the battery.
Brand: KangerTech
Unit: 1pc
Size: Height 75mm; Diameter 11mm
Threading: 510
Capacity: 320mAh